Another holiday season makes me think about gifts received over the years from a well-meaning Santa who wanted to be supportive of my outdoor interests. However, he often didn't quite understand the nuances of equipment or activities. And how fishing has changed over the years. I've shared a few thoughts here, for Santa to ponder.
For starters, I don't need more push-button reels or "poles" from Aunt Martha. My last Zebco was yanked overboard at Pleasure Island pier in Port Arthur in 1968. While they're great for beginners, today I use spin reels (size 4000) and open-face reels for those larger species (ling, snapper and kingfish). The fishing rods I'd rather inspect at the store, preferring graphite in the 7-8 foot range. That allows a good bend when the big one bites, but with strength. Not too flexible and not too stiff. Just right.
No more stainless steel J-hooks, either. I'm averse to leaving these hooks in fish; they last for years in salt water and are dangerous for the next fish that eats the first one—or a pelican, osprey or dolphin. For many years now, my favorite inshore hook is the brown, 6/0 non-offset circle hook. They have a great record for lip-hooking fish instead of being swallowed. And they begin to rust in a week, if I don't rinse them. That means if they do end up in a fish, they degrade quickly.
If you're packing fishing line into that bag of goodies at the North Pole, please save the braid line for someone else. One little wind knot, and that reel is done for the day. Maybe that's why tournament guys carry so many rods on the boat. I still use old-fashioned Ande or Berkley Big Game monofilament, which have caught many world records and consistently deliver fish to the boat .
I can always use a new pair of fishing gloves, but have become picky after trying most brands in the past dozen years. Many are made for sun protection and mountain trout streams—not handling lots of fish. Today I stick with Fish Monkey brand, with leather pads sewed on the palm. I love the stretchy fabric and comfortable fit, (Size XL).
If you're going to leave needlenose pliers in my stocking, be sure they're an 8-inch model, coated with something that will slow down the rust. The 6-inch variety does not have enough torque for removing stubborn fish hooks and some brands begin to rust overnight, even when cleaning and oiling them after every trip. Spray-painting only slows the inevitable. I have noticed the better pliers sport bright orange or red stripes, which helps locate them quickly in my bucket of gear, when a fish is flopping on deck.
Stingray leggings? Not so much. I've tried wearing them wading and they kept floating up my legs, making it difficult to walk. I will take my chances with long fishing pants, slowly shuffling my feet, and scanning the bottom when possible. Or better yet, staying in a dry boat. It's worked so far. There are many reasons to "never get off the boat."
I really don't need a 30-foot cord fish stringer. Bag and size limits have greatly changed and I don't mind releasing fish. Years ago those stringers were needed when green surf water moved in or lapped the sand, which could yield a ponderous stringer of trout. (Back when a hundred were legal.) The long cord was also meant to mostly keep sharks away from wading anglers. Mostly. These days, anchored on a shoreline, I use a short cord stringer, about eight feet, attached to a boat cleat with the fish swimming alongside. (Don't try it at the jetties or tied to an oil rig). When we're ready to go, I sometimes snip a gill on each fish, bleeding them before icing them down.
Long sleeve fishing shirts are great, but no more short sleeves, thanks. The skin doctor has carved on me enough. Old-fashioned 100% cotton is best. Today's polyester shirts might look cool but they make me sweat like I'm still on the disco floor in 1977.
Also, no more mushroom anchors under the Christmas tree. I'm no longer fishing reservoirs, where they work best. In salt water we use fluke anchors with a few feet of galvanized chain that will hold bottom and keep your boat from dragging anchor across a choice oyster reef during a hot trout bite. . . Or while wading, watching the boat float away in afternoon wave chops . . . Or you find the boat has dragged anchor and wound up on the beach 20 miles from anywhere. If you have a grapnel anchor laying around, about 9 pounds, that's handy for anchoring both ends of the boat.
I'm good on fillet knives, thanks. My Bubba Blade carves up big-boned fish—like redfish or almost any offshore fish—and is sharp enough to make a good fillet. My long, thin Dexter fillet knife glides through trout and Spanish mackerel easily and without wasting meat. I also have an assortment of cheap bait knives that are easily sharpened before each trip. With the handles spray-painted orange, so they can be found quickly on a choppy day when knives and loose gear migrate to the back of the boat. You want to spot them quickly when the action is on. Or a knife is bouncing around on the gas hose.
While I've always appreciated camping gear, I think those days are mostly behind me. For some reason, it's getting more difficult to sleep on the ground and jump up for my mandatory two cups of black coffee. Especially after a near-sleepless night of bright moon or slamming truck doors from nearby campers. Things are now far different from camping in our youth at Toledo Bend with a minimum of equipment. Jumping up on a forested shoreline, right across the water from Fin and Feather Marina. And mixing Tang with lake water for breakfast. Or those really bad, stormy campouts, always in March, with standing water in the tent. Today, I'd rather stay at some no-tell motel with good earplugs, rather than sleep in a flooded tent with lightning all around. Or a cruel norther slamming the campground on a treeless Matagorda Island, with three-foot whitecaps rolling into the harbor. As for hiking-camping gear, that's definitely out. You got your last klick out of Junior.
No need for more Igloos, my generic term for fish box. I already have five, in all different sizes for different purposes. One even has wheels for cast-netting on the beach. Another is a little longer, for keeping bigger inshore tournament fish. The biggest box of course is for offshore fish. My biggest cooler ever, at five feet long and nicknamed the "kingfish coffin," was given away to a local guy who cooks barbecue on the side of the road. Said he needed a big cooler for his ribs. I traded it for a few free dinners, freeing up much space in my garage.
For him, Christmas came early that year.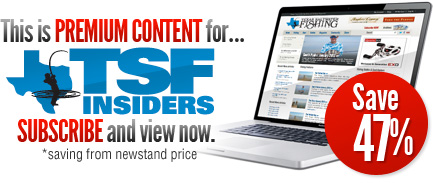 To continue reading,
Login
or become a
Subscriber
!